We highly value your referral relationship with us. That's why we want your patients to have the best experience possible when you refer them to us.
Appointments and Consultations
Call M-LINE at 800-962-3555.
M-LINE is a single, 24-hour, toll-free number for referring physicians and their staff seeking access to clinical services and faculty at the Health System. The M-LINE staff work closely with personnel across the Health System to provide efficient and personalized service. Call today and a representative will help you get the information you need or connect you to the right location.
For appointments only, you also have the option of completing a Consult Request Form and faxing it directly to the clinic.
For a listing of all Kellogg Eye Center services, physicians and locations, download the Kellogg Eye Center Specialty Care Directory.
For additional referral information see UMHS Health Provider website.
Ophthalmology Physician Liaison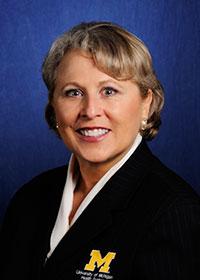 Jennifer Ziehm-Scott serves as the Ophthalmology physician liaison and is dedicated to providing personalized service to community-based physicians. To contact Jennifer, please call M-LINE at 800-962-3555 or email her directly at jenjazz@umich.edu A physician liaison is available to:
Visit your practice
Inform you of new services, treatment options and clinical trials
Work to understand your needs
Discuss outreach opportunities by our clinical faculty
For additional referral information visit our For Health Provider website.