ANN ARBOR, Mich. -- The University of Michigan Health System's Michigan Visiting Nurses and health centers are offering flu vaccinations to patients and the public through a series of convenient walk-in clinics this fall.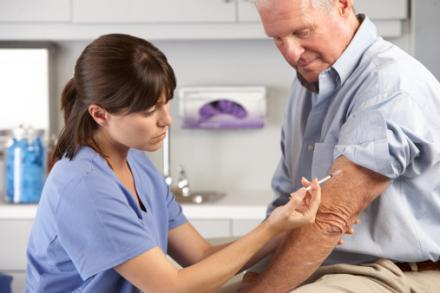 Now's the time to think about getting the whole family protected from the flu.
Now is a great time to roll up your sleeve because the flu vaccine takes two weeks to kick in.
For individuals who see a U-M physician, nurse, midwife, or other provider, vaccination can be done during existing or new appointments this fall or at special walk-in clinics for current patients. Patients should call their U-M provider's office for an appointment. If patients receive their flu shot elsewhere, they should notify their U-M provider so their medical record can be updated.
"The flu vaccine is the most reliable way to ward off flu this season," says Tracy Newhouse, Michigan Visiting Nurses community wellness manager.
U-M will have quadrivalent vaccine doses which protect against four different strains of influenza and a high dose vaccine is available for persons 65 years of age and older.  Please call 734-477-7229 for locations of MVN clinics where the high dose vaccine will be available.
The Centers for Disease Control and Prevention recommends that anyone 6 months and older should be vaccinated for the upcoming flu season. Children less than 9 years of age may require two doses this season depending on their immunization history. 
The CDC also recommends that because children younger than 6 months cannot be vaccinated, their caregivers and entire family should receive the shot.
Vaccination is particularly important for high-risk groups, including children, those 50 and older, pregnant women, and anyone with an underlying medical condition that can weaken their immune system. The CDC recommends flu shots be received annually. 
At its walk-in clinics, Michigan Visiting Nurses accepts the following insurances, all of which cover the entire cost of the flu shot:
Blue Care Network
BCN Advantage
Medicare Plus Blue PPO
Blue Cross Blue Shield of Michigan PPO
Blue Cross Complete
Cigna
HAP HMO and PPO
Health Plus HMO/PPO/POS/MIChild
HealthPlus MedicarePlus Advantage HMO/PPO
PHPMM HMO and PPO
Priority Health HMO and PPO
Priority Health Medicare Advantage
Traditional Medicare Part B
UM Premier Care.
Other payment options include cash, check, VISA, MasterCard, American Express and Discover.
The walk-in clinics are open to the public and most clinics are limited to vaccinating those age 9 and older. See a complete list of clinics below or call MVN's flu hotline at 734-477-7299.
Friday, 9/30/2016 from 9:00 AM - 1:00 PM at the Pittsfield Township Senior Center, 701 W. Ellsworth, Ann Arbor,  48108 Ages 9+
Sunday, 10/2/2016 from 9:00 AM - 12:00 PM at the First United Methodist Church - Ann Arbor  120 South State Street, Ann Arbor, 48104 Ages 9+
Friday, 10/7/2016 from 2:00 PM - 6:00 PM at the St. Francis School and Parish, 2270 East Stadium Boulevard, Ann Arbor,  48104  Ages 9+
Friday, 10/7/2016 from 10:00 AM - 1:00 PM at the Hamburg Senior Center, 10407 Merrill Road, Hamburg,  48139  Ages 9+
Saturday, 10/8/2016 from 9:00 AM - 12:00 PM at MedEquip, 2705 S. Industrial, Ann Arbor 48104  Ages 9+
Saturday, 10/8/2016 from 12:00 PM - 3:00 PM at Wiard's Orchard, 5565 Merritt Road,  Ypsilanti 48197  Ages 9+
Sunday, 10/9/2016 from 9:30 AM - 11:30 AM at the Dexter United Methodist Church, 7643 Huron River Drive, Dexter  48130,  Ages 18+
Sunday, 10/9/2016 from 1:00 PM - 4:00 PM at Wiard's Orchard, 5565 Merritt Road, Ypsilanti 48197 Ages 9+
Wednesday, 10/12/2016 from 9:00 AM - 2:00 PM at the Zion Lutheran Church, 1501 West Liberty,  Ann Arbor,  48103  Ages 9+
Wednesday, 10/12/2016 from 10:00 AM - 2:00 PM at the Ann Arbor YMCA, 400 West Washington Street, Ann Arbor  48103  Ages 9+
Friday, 10/14/2016 from 9:00 AM - 11:30 AM at the Northfield Township Community Center 9101 Main Street, Whitmore Lake, 48189  Ages 9+
Friday, 10/14/2016 from 9:00 AM - 12:00 PM at the Saline Area Senior Center, 7190 North Maple Road, Saline  48176  Ages 9+
Sunday, 10/16/2016 from 8:30 AM - 11:00 AM at St. Andrew's Episcopal Church, 306 North Division,  Ann Arbor  48104  Ages 9+
Tuesday,  10/18/2016 from 1:00 PM - 5:00 PM at the Dexter Wellness Center, 2810 Baker Road, Dexter, 48130                Ages 9+
Thursday, 10/20/2016 from 9:00 AM - 11:00 AM at the  Chelsea Wellness Center, 14800 East Old U.S. 12,  Chelsea,  48118  Ages 9+
Wednesday,  10/26/2016 from 9:00 AM - 12:00 PM at the Adrian Senior Center,  327 Erie Street, Adrian, 49221  Ages 9+
Saturday,  10/29/2016 from 4:00 PM - 7:00 PM at St. Andrew the Apostle Church , 910 Austin Drive,  Saline,  48176  Ages 9+
Saturday, 10/29/2016 from 9:00 AM - 12:00 PM at MedEquip,  2705 S. Industrial,  Ann Arbor, 48104         Ages 9+
Sunday, 10/30/2016 from 8:00 AM - 1:00 PM at St. Andrew the Apostle Church, 910 Austin Drive, Saline, 48176  Ages 9+
Saturday, 11/12/2016 from 9:00 AM - 12:00 PM at MedEquip,  2705 S. Industrial, Ann Arbor, 48104  Ages 9+
Saturday, 12/3/2016 from 9:00 AM - 12:00 PM at MedEquip, 2705 S. Industrial,  Ann Arbor, 48104              Ages 9+
For more information on influenza and the vaccine, visit the UMHS Flu Information page
###