Updated January 2022

Though the CDC and state of Michigan have recently updated mask guidelines for those who are vaccinated, masks or face coverings are still required for all staff, patients and visitors while inside Michigan Medicine facilities and the courtyard of the main medical campus, regardless of vaccination status.
Latest Information from Michigan Medicine
Visit the Michigan Medicine Coronavirus Update pages for additional information about our response to the COVID-19 pandemic including:
COVID-19 Vaccine Info
Get the latest info about how we are preparing for the distribution of the COVID-19 vaccine.
Updated Visitor Guidelines
Find out about the most recent visitor guideline updates for our clinics and hospitals.
COVID-19 Patient Testing
Learn about COVID-19 testing for all patients with an upcoming surgery, procedure or admission.
Patient Care Updates During the Coronavirus (COVID-19) Outbreak
Thank you for your support in these challenging times. We know it's difficult to practice social distancing and stay away from loved ones and friends. We also know it's tough to take care of yourself and stay healthy.
We are here for you if you have concerns. We are making your visit safer if you do need to come in, and are planning to continue to keep you safe once we can start seeing more of you.
Who we are seeing:
In person

We are seeing patients for visits of all types at currently open clinic locations (see below)

Video or phone

Anyone can call with questions
Video visits – we will help you figure out the best way to make an appointment with your doctor
Where we are seeing patients:
Accompanying Patients to Appointments
One visitor (16 years old or older) can accompany each adult patient to an appointment, unless an additional aide or assistant is required due to cognitive or physical impairments. If necessary due to child care or school closures, children or siblings may accompany a patient or parent to their appointment.
Two parents/guardians or designees are allowed to accompany each pediatric patient (under 21 years of age) to an appointment, unless an additional aide or assistant is required. If necessary due to child care or school closures, siblings may accompany the primary caregiver to the appointment.
To support social distancing in our clinic evaluation rooms, adults who are not medically necessary to an adult patient may be asked to wait in common waiting areas during appointments or procedures.
Please see the Michigan Medicine visitor guidelines for updates and more information.
How we are keeping you and our Kellogg team members safe:
We ask screening questions about risk factors over the phone before you come and we will ask screening questions again when you arrive for your appointment.
Though the CDC and state of Michigan have recently updated mask guidelines for those who are vaccinated, masks or face coverings are still required for all staff, patients and visitors while inside Michigan Medicine facilities and the courtyard of the main medical campus, regardless of vaccination status. Please note that scarves, bandanas and masks with valves are not allowed. Visit our Mask-Wearing to Prevent COVID-19 page on uofmhealth.org for more about the why, who, and how of mask-wearing.
Exam rooms are disinfected after every patient
Common areas are disinfected multiple times a day
Physical shields on our equipment protect you and our care providers during exams
We keep patients several feet apart in our waiting rooms
We offer "car waiting" – we will call you when it's your turn
Patients who are sick or have symptoms are isolated from other patients
We limit your risk of exposure by providing COVID-19 testing to all patients with a scheduled surgery or procedure. Visit the COVID-19 Testing Before Surgery, Procedures, or Admission to the Hospital page on uofmhealth.org for more information.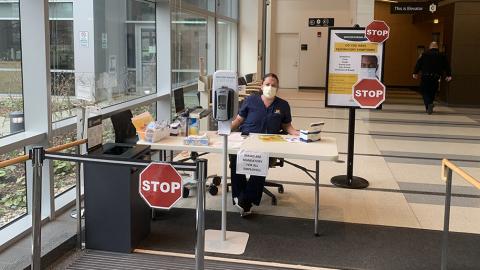 Screening for risk factors when patients arrive for their appointments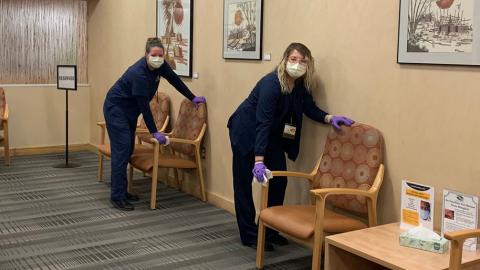 Disinfecting common areas & exam rooms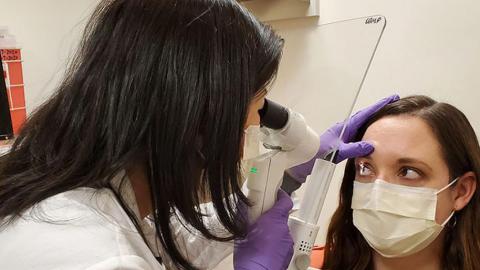 Protecting our patients and eye care providers during eye exams
We are doing our part to protect our community in South East Michigan with the processes and practices above. We will continue to work to keep our patients, families, and employees safe now and in the future.
---

Coronavirus (COVID-19) and Your Eyes
Much of this information was reprinted from the Coronavirus and Your Eyes flyer from the American Academy of Ophthalmology (AAO).
Download the AAO Coronavirus and Your Eyes flyer:  English version   Spanish version
Coronavirus can spread through the eyes and tears
The first thing to understand is that coronavirus can spread through the eyes — just as it does through the mouth or nose.
Limiting eye exposure can help. Here's why:
When someone who has coronavirus coughs or talks, virus particles can spray from their mouth or nose into your face. You are likely to breathe these tiny droplets in through your mouth or nose. But the droplets can also enter your body through your eyes.
People who have coronavirus can also spread the disease through their tears. Touching tears or a surface where tears have landed is another way someone can become infected.
You can also become infected by touching your eyes after touching something that has the virus on it.
Coronavirus may cause pink eye - but it's rare
If you have pink eye infection (conjunctivitis), don't panic. Simply call your ophthalmologist to let them know and follow their instructions for care. Keep in mind that whether pink eye is caused by a virus or bacteria, it can spread if someone touches that sticky or runny discharge from the eyes.
Call your ophthalmologist for guidance in the following situations
You have macular degeneration or diabetic retinopathy and get regular eye injections
You notice changes in your vision (like blurry, wavy or blank spots in your field of vision)
You notice a lot of new floaters or flashes in your vision
You suddenly lose some vision
You have eye pain, headache, red eye, nausea, and vomiting
Keeping your eyes safe and healthy
Guarding your eyes — as well as your hands and mouth— can slow the spread of coronavirus. Here are some ways to you can keep your eyes safe and healthy during this coronavirus outbreak.
If you wear contact lenses, try switching to glasses for a while. Contact lens wearers touch their eyes more than the average person. Consider wearing glasses more often, especially if you tend to touch your eyes a lot when your contacts are in. Substituting glasses for lenses can reduce eye irritation, and they may be a barrier that reminds you not to touch your eye. If you must wear contacts, be sure to clean and disinfect them exactly as your eye doctor recommends.
If you must wear contact lenses and cannot wear glasses. During this time of uncertainty in the COVID-19 pandemic, there is some question as to whether patients should stay out of their contact lenses. While there are news reports that encourage people to switch to glasses, some patients require medically necessary contact lenses thus making glasses a non-viable alternative. The American Academy of Optometry and American Optometric Association believe that contact lenses can still be worn safely by those patients as long as strict hygiene is followed. As always, contact lens wearers should follow these guidelines:

Wash hands with soap and water for 20 seconds before handling contact lenses
Replace the contact lenses according to their prescribed replacement schedule. For contact lenses designed to be reused, clean and disinfect the lenses after each use. Please be sure to read the directions on your chosen disinfection solution to ensure proper cleaning
Dispose of your contact solution after each use. Allow the case to air-day every day. NEVER top-off solution. NEVER re-use solution from the case.
Avoid touching your eyes, nose, and mouth with your hands as much as possible.
If your contacts are uncomfortable, remove them immediately and switch to glasses. This can help you to avoid rubbing and touching your eyes If you develop significant redness, decreased vision, pain, or discharge, remove the lenses and contact your eye care professional
Additionally, it is important to clean your glasses routinely  

Wearing glasses may add a layer of protection. Corrective lenses or sunglasses can shield your eyes from infected respiratory droplets. But keep in mind that they don't provide 100% security. The virus can still reach your eyes from the open sides, tops, and bottoms of your glasses. For better protection, you must use safety goggles if you're caring for a sick patient or potentially exposed person.
Stock up on eye medicine prescriptions if you can. If your insurance allows you to get more than one month of necessary eye medicine (like glaucoma drops), you should. Some insurers will approve a 3-month supply of medication in times of natural disaster. Ask your pharmacist or ophthalmologist for help if you have trouble getting approval from your insurance company. As always, request a refill as soon as you are due. Don't wait until the last minute to contact your pharmacy.
Avoid rubbing your eyes. It can be hard to break this natural habit, but doing so will lower your risk of infection. If you feel an urge to itch or rub your eye or even to adjust your glasses, use a tissue instead of your fingers. Dry eyes can lead to more rubbing, so consider adding moisturizing drops to your eye routine. If you must touch your eyes for any reason— even to administer eye medicine— wash your hands first with soap and water for at least 20 seconds.
---
How to Protect Yourself from the Coronavirus (COVID-19)
The best way to prevent illness is to avoid being exposed to this virus by practicing safe hygiene and social distancing. 
The Centers for Disease Control and Prevention (CDC) offer these general guidelines to slow the spread of disease:
Wash your hands often with soap and water for at least 20 seconds.
You should especially wash your hands before eating, after using the restroom, sneezing, coughing or blowing your nose.
If you can't get to a sink, use a hand sanitizer that has at least 60% alcohol.
Avoid touching your face — particularly your eyes, nose, and mouth.
If you cough or sneeze, cover your face with your elbow or a tissue. If you use a tissue, throw it away promptly. Then go wash your hands.
Avoid close contact with sick people. If you think someone has a respiratory infection, it's safest to stay 6 feet away.
Stay home when you are sick.
Regularly disinfect commonly touched surfaces and items in your house, such as doorknobs and countertops.
---